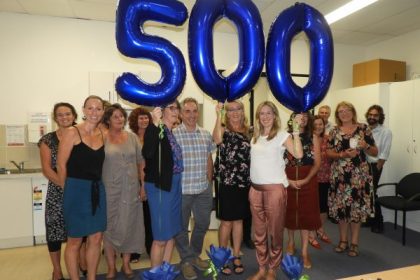 The Mid and North Coast HealthPathways Team reached a major milestone in April celebrating online publication of 500 localised HealthPathways.
This is a great achievement for the team of 8 who work remotely across the North Coast including Coffs Harbour and Port Macquarie.
HealthPathways team members, management and staff congregated after a recent Workgroup meeting to celebrate with a cake and balloons!
Since the program launched in 2014, Mid and North Coast HealthPathways has provided timely, relevant and localised information about medical treatment and services to health professionals and their patients.
Feedback from Clinicians; "HealthPathways is a comprehensive and useful tool to use in the care of their patients. The pathways are an excellent clinical and referral resource, containing the latest information, are easy to navigate and a great resource for those new to our region."
Website usage has grown substantially over the last twelve months and this is indicative of the positive feedback we receive from health professionals from across the footprint.
HealthPathways achievements over the last year:
83 new HealthPathways were developed

88 HealthPathways were reviewed

174,983 Page views were recorded on Google Analytics

Antenatal Care Routine HealthPathways and Summary or Referral Pages were the most accessed pages

The HealthPathways website has been further enhanced by the launch of a new Patient Information website providing an invaluable resource for patients to access following consultation with their health professional link below:
http://www.mancpatientinfo.org.au/