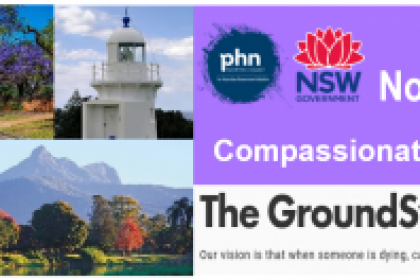 The Compassionate Community "Call to Action" group has met on 23 August at the Ballina Surf Club to further build the local Northern NSW Compassionate Community.
Anna Law, End of Life Care Porject Lead invited the group to join her for the follow up discussion and planning leading on from the initial forum in July. The evening was led by the community voice. Anna started the evening with a look at what was discussed in July and then the group worked together with a plan of action to benefit the local community.
"It was inspiring to meet everyone and to see the motivation and desire to build up our compassionate communities" noted Anna in reflection of the night.
"On the evening the areas that kept coming up were:
A directory for community members to know 'what is out there' and to look at what may be missing.

Community education/awareness around death, dying, loss and grief – some of the ideas mentioned:
art/theatre in schools

legacy and art projects

walking grief groups

coffin clubs

befriending groups/people

connecting the community

giving people an avenue of 'how to help'

and many more.
Attendees were very interested in the work being done in Frome, UK – please see this link for more information: Frome Model
Following on from this great network of ideas a plan of action will be devised by the group who are scheduled to meet regularly to see these ideas come into fruition.
The meetings will be in Ballina at the Kentwell Community Centre – 20 Bangalow Road, Ballina NSW 2478:
13th September 5:30pm – 7:30pm
11th October 5:30pm – 7:30pm
8th November 5:30pm – 7:30pm
If you would like any information, please contact Anna on 0418 797 478 or via email anna.law@health.nsw.gov.au.
"The greatness of a community is most accurately measured by the compassionate actions of its members" (Coretta Scott King)