Integrated Aboriginal Chronic Care
What we are doing
To assist with increasing access to services for an integrated approach to care across all Aboriginal specific and mainstream chronic care programs and services throughout the NNSWLHD footprint for an Aboriginal person living with a chronic condition(s).IACC is a patient centred model that ensures chronic care services are easy to access for the patient, other services and clinicians. IACC focuses on the best fit for the patient needs, not only what the service can provide.
Key Issues and Causes
Several similar services exist for Aboriginal chronic care clients across LHD footprint within different organisations

There were various methods to access similar services ie. intake process/ criteria/ level of care/ capacity

Poor communication between services all accessing the same client group

Inequity of access to services at all levels of care

Some clients were receiving all services, some were receiving none

Limited awareness of what other services offered
Background
A partnership/collaboration between the key stakeholders NNSWLHD, Healthy North Coast (formerly NCPHN), local Aboriginal Medical Services and Aboriginal Community Controlled Health Services such as Bulgarr Ngaru, Bugalwena Bullinah and Rekindling The Spirit was developed.
The purpose of the collaboration was to streamline and simplify access to Aboriginal specific chronic care services and healthy lifestyle programs within the NNSWLHD footprint. This collaboration involved many project team meetings to define and develop the model and ensure that it worked for both patients and services. The project team identified that the core business with the IACC partners, was to have an opportunity to work together and spread the load. There were particular areas of service delivery that were similar across services and by enhancing 'how' services worked together, all organisations could continue to provide quality care, utilising their strengths and resources to improve the patient journey across the NNSWLHD footprint.
 Key features of Integrated Aboriginal Care include:
Single point of assessment to access all Aboriginal specific chronic disease management programs

Comprehensive assessment of patient needs and onward referral to most appropriate services regardless of which service receives the referral

Provision of case management, care co-ordination, self-care support and healthy lifestyle programs through service collaboration

Routine coordinated case conferencing and ongoing assessment of needs

Reduced duplication between similar services ensuring patients have co-ordinated access to all appropriate services

Cooperation between primary, secondary and tertiary health services
How Will it Work?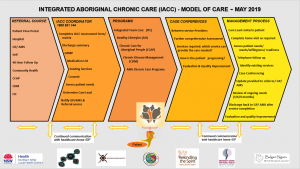 What are the Impacts and Benefits?
For Patients
One clearly designated case manager

Seamless service delivery

Entry into services and programs in a timely manner

Ease and improved navigation of chronic care programs /health

Comprehensive and multidisciplinary assessment and management of chronic conditions

Improved communication lines between services to co-ordinate care

Better health outcomes

Less unplanned admissions to hospital

Access to all appropriate services at the appropriate time

More opportunity to access and improved support for all types of chronic care services
For Services
Through these partnerships, the network of services provide support to ensure patients 'don't fall through the cracks'

The teams' capacity enables continuity of care, even if individual case managers are unavailable

More complete, internal and external communication between all parties throughout the patient health journey

Referral processes to service won't change but easier access to more services

No extra staff required but increased availability to other services

Comprehensive approach to individual patient care

Improved relationships between services

Improved relationships with general practice and external referrers to the program

Cost effective systems both administration and support

Improved and more effective management of patient's health care needs

Financial benefits from coordinated care (via MBS)
For Providers
One contact number for all services

Clear and concise referral system for all services

Improved communication internal and external

New system supports timely referrals and responses regarding patient

A collaborative approach to each client rather than a splintered approach where each health professional and program do not connect

Avoidance of duplication, awareness by 'health team' of who, what, why, how and where client care is being delivered

Regular case conferencing with the health team and established feedback mechanisms as per service requirements
Who is Eligible?
All Aboriginal and/or Torres Strait Islander people living with chronic condition(s).