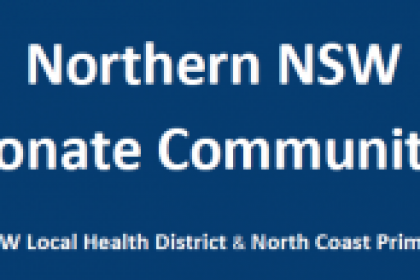 The Northern NSW Local Health District (NNSWLHD) recently invited members of the local community to participate in an evening of discussion around end of life care in our area.
The evening was part of the Compassionate Communities movement locally led by Anna Law, End of Life Care Project Lead for the NNSWLHD.
Compassionate Communities is a whole of community approach to end of life care where caring for one another at times of need, loss and/or crisis becomes the task and responsibility of everyone.
What is a Compassionate Community? – Video
With Australia's ageing population set to double by 2050, the end of life system in Australia requires collaborative action from health organisations, NGOs, community groups and individuals in order to see sustainable change. Compassionate Communities is a global movement for public health practice, a way to engage communities to think about how care is provided to people who are dying.
There are examples of Compassionate Communities making a difference around the world, communities such as the English town of Frome where in 2013 a concerned Doctor started the "Compassionate Frome" to combat high levels of loneliness affecting local patients.
Trying to Cure Loneliness – Video
Attendees met at the RSL in Ballina on Monday 2 July and included carers, support workers, health clinicians, men's shed members, other community group members, celebrants, concerned members of the public all with a common goal in mind…
"to build a more active community supporting those at the end of their life"
Lynn Lelean, Media and Corporate Communications Manager facilitated the evening along with guest speakers, Holly Rankin-Jarvi National Lead, The Groundswell Project and Anthony Brown, Executive Director, Health Consumers NSW.
Discussions covered existing community support for people during caring, dying and grief; what is working well and what is missing; and brainstormed ideas around what we can do to build more compassion within our community.
At the end of the evening a call to action was raised to work together to build a more compassionate place to support locals. By signing up to be a member of the Compassionate Community, members are invited to get involved, share their knowledge and become more informed about death, dying, loss and caring in the community.
Following on from the forum, Anna and the Groundswell Project will look closely at the ideas raised, pull out key themes and common ideas and then bring these to a next meeting which is scheduled for 23rd August.
If you or someone you know is interested in becoming a Compassionate Community member or want more information please contact Anna Law on 0418 797 478 or via email anna.law@health.nsw.gov.au.