Renal Services - NP & Support Care Service Model
Over the last 10 years NNSWLHD renal services have expanded the range of patients they see. Traditional involvement was in the provision of dialysis services. We are now involved in early identification and management of chronic kidney disease (CKD) to slow progression of disease and possibly avoid the need for dialysis. More recently we have provided a supportive care service to assist with symptom and palliative management of those people with end stage kidney disease either choosing not to have dialysis or withdrawing from dialysis. Moving into these areas has required increased collaboration with primary health care providers. We have demonstrated success in these areas and continue to strive to provide seamless care to people in our community with chronic kidney disease.
Chronic Kidney Disease (CKD)
Early Chronic Kidney disease is asymptomatic. If treated early progression of CKD can be slowed or even halted but we have to find the patients first.
Slowed or halted with early detection
Dialysis
Dialysis is really expensive!

Dialysis has a large negative impact on patients quality of life!

Not for everyone
People with multiple morbidities may not achieve improvement of quality of life or indeed increased life expectancy with dialysis.
CKD Nurse Practitioner
Commenced in 2008

GPs identified significant communication issues

Co-location at Tintenbar Medical Centre and Prema House

We had to sort out issues as we went

It all made sense

Clinics have continued and more commenced

Co-location demonstration trials
Opportunities
CKD Nurse working in Primary Care

Access to different practices and facets of Primary Care
In 2014-2015 Graeme Turner, NP Chronic Kidney Disease; NNSWLHD was involved in the "Co-location and Integration of Allied Health Services into General Practice: A demonstration trial in North Coast NSW Medicare Local". For Graeme this provided an opportunity to receive some formal evaluation of what he had been doing and provided access to some different practices and facets of Primary Health Care.
Key Learning Points
Patient satisfaction with co-location was high.

GP's and LHD staff had high level of satisfaction.

Co-ordination of patient care improved.

There was knowledge sharing between Primary Health Care Staff and Local Health District staff.

We have more to learn

 
Bugalwena GP Pilot Project Results
Opportunities to work in Bugalwena General practice in Tweed

Provided opportunities to test eMR interrogation

Increasing participation of primary health care via identification and management of CKD
Following the co-location trial an opportunity arose for Graeme to work with Bugalwena General Practice to improve identification and management of their clients with CKD.
It provided an opportunity for Graeme to test some ideas that he had formulated during the co-location trial.
Graeme's ideas included:
Use electronic medical record (eMR)interrogation to identify people likely to have CKD in (PHC).

Increase participation of primary health care staff (GP's and practice nurses) in identification and management of CKD through knowledge sharing and improved integration with LHD.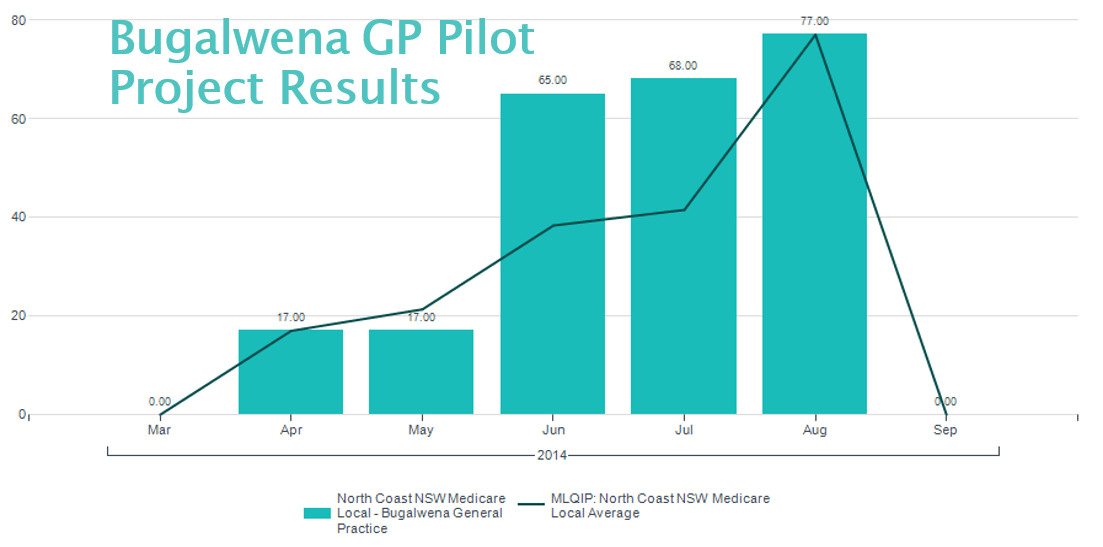 The results of a pilot project Graeme conducted in partnership with Bugalwena General Practice and North Coast Medicare local (now known as North Coast Primary Health Network).
Graeme used penCAT clinical audit tool to do virtual kidney health checks.
We still had to establish chronicity and rule out acute illness effects on results but Graeme was able to give the practice a manageable number of patients to follow up.
He conducted electronic searches in the morning and provided results and practice education in the afternoon.
The graph shows 2 things.
Firstly 5 fold increase in people coded and managed as having CKD in 1 month

Secondly numbers on the CKD register continued to increase over the following 3 months Urine ACR was now being done routinely and reviewed as part of their annual 715- Adult Aboriginal Health Check.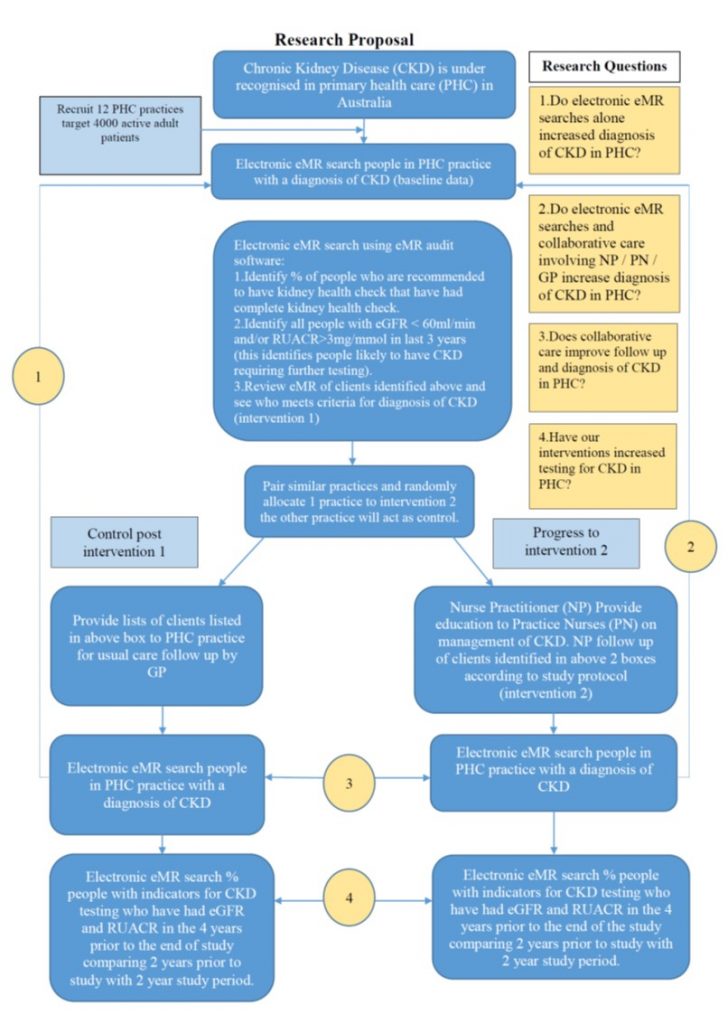 Graeme ran similar pilots in other General Practices – with mixed results – the best results were achieved when he managed to engage the whole practice – not just the GP's. The practice nurses were organising routine follow up.
What's Next?
Research to demonstrate benefits / scalability and sustainability of our integrated care model for detection and management of CKD.
We have designed a research proposal and built research team.
We are in the process of looking for and applying for funding to complete the research.
We have recruited 4 General Practices we are looking for a further 8 general practices to be involved in the research.
In the spirit of integrated care we have people from NNSW LHD, North Coast PHN, Local General Practices, Consumer Representation and Southern Cross University involved in our research proposal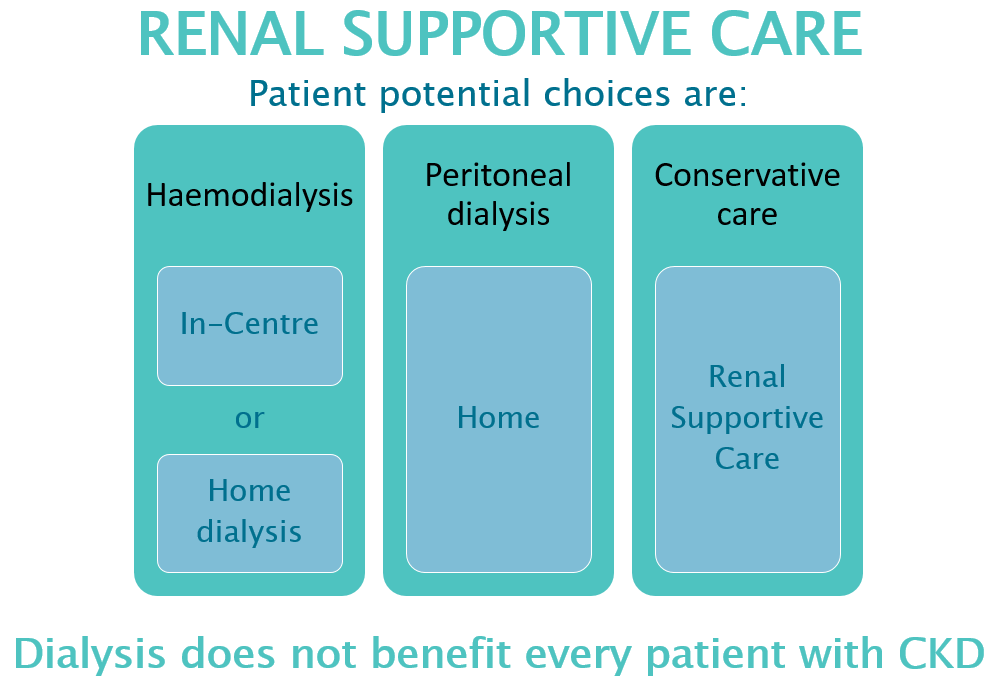 Renal Supportive Care Service
The Renal Supportive Care service provides care and support to patients who choose conservative treatments for their renal disease. The service is made up of a Clinical Nurse Specialist, Social Worker and Dietician.
The Renal Supportive Care (RSC) model of care
To improve quality of life

To improve clinical outcomes

Manage symptom burden

The Renal Supportive Care (RSC) service commenced in RCHSG in July 2015.

We currently have 104 pts.

A nurse-led model.

Embedded within existing renal services.

To be successful we need a good working relationship between RSC and primary Care.
Renal Supportive Care Provides:
Pain and symptom monitoring and management

Advocacy and referral to services as clients are often managed by multiple services

Nutritional support and advice

Assessment

Advance care planning

Home visits

Ongoing support
Patient expectations:
Progression

Knowledge

Self management

Available resources

Timely access to palliative care

Effects of diet on Symptom management

Person-centred care - Decision making and support
How do we sustain the Renal Supportive Care Service?
Continue to build professional working relationships with primary care.

Build on other IC Initiatives such as the Orion Shared Care Tool.

Addressing person-centred care will drive the evolution of the Renal Supportive Care