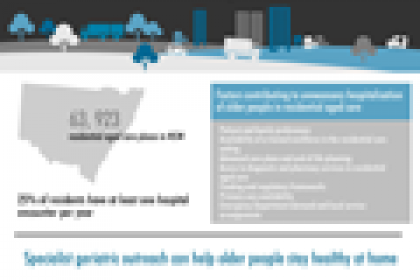 A program designed to reduce hospital admissions and improve care for older people in the Residential Aged Care Facilities (RACFs) setting is running at Grafton Base Hospital.
The Specialist Geriatric Outreach (SGO) service uses Telehealth to provide RACFs with clinical support and advice.
The SGO sees an integration of services between acute care services, primary care, and RACFs. The project is a partnership between the Northern NSW Local Health District (NNSW LHD), the NSW Agency for Clinical Innovation, NSW Ambulance, North Coast Primary Health Network and local Residential Aged Care Facilities.
NNSW LHD Project Officer Kate Russell said the SGO involves all nine RACFs in Grafton, Yamba and Maclean being linked to Grafton Base Hospital's Emergency Department through telehealth equipment installed in the RACFs.
"This 24/7 service was set up to offer additional clinical advice and support to the RACFs and to reduce unnecessary presentations to ED," Kate explained. "The SGO services aims to reduce unnecessary presentations for non-urgent cases only, it is not to be used for emergency situations.
"We've had excellent feedback from the RACFs using SGO, and have had a number of successful patient stories where SGO has allowed a resident to be treated in their own home, particularly palliative care residents requiring additional pain relief."
"It's distressing for a palliative care resident, or a resident with dementia or in a delirium to be taken out of their environment and travel via ambulance to hospital, where they may have to wait in ED for an extended period of time, to be assessed and treated. We aim to improve patient experiences by offering additional treatment options within their own home.
"If the GP is unavailable and it is recognised that a patient requires oral antibiotics for conditions such as cellulitis, or a chest infection, SGO can help facilitate this using the SGO Telehealth link."
SGO has already proven its worth with a reduction in the number of presentations to Grafton Base Hospital from RACFs.
For more information visit www.aci.health.nsw.gov.au/make-it-happen/cip